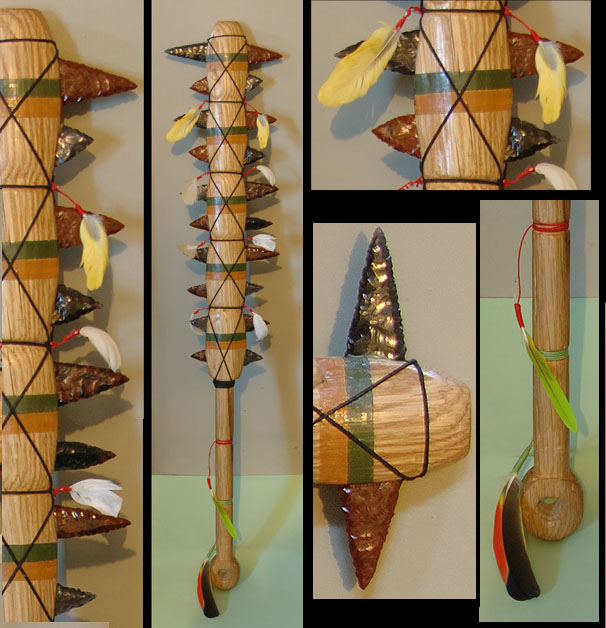 Thing that got me into prehistory in the first place was the desire to make one of these Mexican monstrosities and the ambition to create something like this kept me going, nowadays there ware plenty of Maquahuitls on the web but ten years ago a search would yield a complete blank.
This is the last one I made about 8 years ago and the culmination of my research, I did my best to make sure everything component in it was authentic Aztec, wood, glue, paint, varnish, string and feathers.
It's made from American Red Oak and carved entirely by hand, the paint is yellow ochre and malachite, the varnish made from pine resin, the glue resin and beeswax, the feather from central American parrots. Red Oak is a pain to carve by hand, like brick and the pine resin varnish dangerous to make but only luckily only caught fire once. It did take three months to set really solid too. The blades are alternate red and black obsidian.
Most people do long blade maquahuitl I wanted to do a triangular blade one to be different. They do exist but are rare.
Here's some earlier ones I did. These are made of chestnut an altogether easier wood to carve.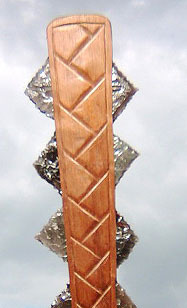 - - - - - -
I am fond of pigs. Dogs look up to us. cats look down on us but pigs treat us as equals.
Stupidity got us into this mess, why can't it get us out
I daren't ask how long it took to make, do you keep them on display?

the barnacle

Knap Meister





Posts

: 714


Join date

: 2011-04-09


Location

: staffordshire



Even without the flint, the American Red Oak would make a formidable weapon. Were they in common use?

The South American civilisations certainly had a way when it came to designing tools to kill things with.
---
Permissions in this forum:
You
cannot
reply to topics in this forum